High quality film and graphics scanners for sharp and accurate capturing of plans, X-rays and film negatives, with precision user demand.
Epson's Expression 12000XL and 12000XL Pro are no newcomers when it comes to catering to the exacting demands of professionals who have the need to capture high quality images, from plans, x-rays and negatives to sharp reproduction of photos and graphics; they have been serving artists, designers and photographers as well as historical societies and archivists for some time.
A comprehensive package of bundled software and imaging technology ensures the Epson Expression 12000XL and 12000XL Pro can perform a wide range of functions easily and efficiently. Epson Scan 2 comes with useful features for removing dust noise and grain reduction to smooth the appearance of images whilst the bundled SilverFast Ai 8.8's image-processing functions help get even closer to perfect image reproduction.
Epson's imaging technology also expands from professional photographic image capture to efficient and productive document scanning, developing a comprehensive range of reliable scanners featuring technologies required to efficiently capture, store and share documents.
Whether it be cost-effective entry level A4 devices, from smart portable devices like the DS-70 ideal for field-based professionals and home office workers to A3 high-volume sheetfed scanners with speeds up to 90 pages per minute, Epson's dedicated scanner range helps increase productivity and efficiency in digitisation processes, as well as manage the costs associated with paper based records and processes.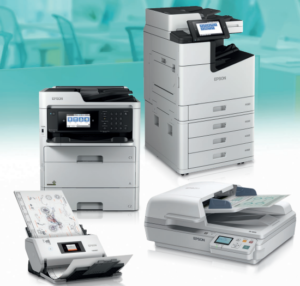 Epson's Document Scanner range is feature-rich, including advanced paper feeding technology for extra reliability. The addition of slow mode functionality, for fragile or long documents, and double feed detection skip, including intuitive user commands for clearing mis-feeds and cleaning sensors, makes scanning any challenging media even easier than ever before. Customers can also benefit from advanced document imaging features that enable high-quality scans to be seamlessly stored into their workflows, from simple document filing to cloud-based services and enterprise content management solutions. Using integrated barcode scanning to dynamically name, store and save to the right destination or workflow, the Epson's dedicated scanner range can cater to multiple needs.
The Epson range enables customers to streamline digital workflows and processes with unified devices that scan quickly and securely, creating encrypted or password protected files and images as well as searchable PDFs, enabling faster search and retrieval as well as keeping sensitive data safe.
As the requirement for sharing secure data becomes greater, Epson introduces ScanWay. Epson's ScanWay models have network sharing functionality and support PC-free, standalone scanning. Job buttons can be assigned to specific users by the customer's IT support team and devices can be password protected; for further peace of mind. The ability to scan directly into the desired workflow simplifies job processes whilst enhancing security as no data is left on the PC.
ScanWay provides simple, reliable and secure scanning solutions for scanner operators and administrators.
In summary, Epson supports a wide range of applications across numerous sectors and business environments. As a result, customers can be confident that Epson has both professional graphics and document scanners to suit the most challenging needs and scanning requirements.
To find out more please visit our Epson Webpage
You can also find this article in IDMI Magazine