GENUS are pleased to have entered into a strategic partnership with Epson for the supply of business scanners. Like GENUS, Epson understands that businesses put reliability and environmental impact at the top of their lists. This is what drives Epson to create innovative products that are reliable, recyclable, and energy efficient. This commitment to reducing the environmental impact of their products spans all stages of their life cycle.
The WorkForce DS range is a complete range of scanners and available in USB, Wi-Fi and Network configurations and split into 3 categories:
Mobile
Create a mobile office with the support of a global leader in scanning solutions. Wherever your work takes you, produce high quality scans with Epson mobile scanners.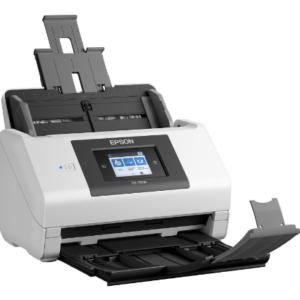 Sheetfeed
Capable of scanning up to 90 pages per minute or 180 images per minute, sheetfed scanners offer production level performance thanks to up to 40,000 page per day duty cycles.
Flatbed
The flatbed range quickly and easily scans documents of any shape or size. Ideal for irregularly shaped or fragile items, as well as books and bound material.
Document Capture software suite makes it easy for beginners or experienced users to integrate Epson scanners into any document workflow. Document Capture Pro is supplied in the box with no licencing requirement. Alternatively, connectivity is available via TWAIN, ISIS, ICA or WIA.
For our Cultural Heritage clients, the Epson range offers the highly acclaimed 12000XL and 12000XL Pro along with the Perfection V850 Pro. The 12000XL is a high resolution A3 flatbed graphics scanner used by many Libraries, Archives and Universities whilst the 12000XL Pro supports a wide range of film formats up to A3+. Additionally, the scanner is supplied with holders for 35mm strip film, 35mm mounted film, 6 x 18cm medium format film and 4'' x 5'' large format film. Both scanners come bundled with the very powerful LaserSoft SilverFast Ai 8.8 software. The Perfection V850 Pro is a high-resolution film scanner and supports film formats up to 8×10 inch.
For more information on this exciting range of scanners, please visit our Epson webpage or contact GENUS.