GENUS are pleased to announce that two brand new scanners have been introduced to the Zeutschel range of book scanners – the OS A and OS C. The world premiere of both scanners recently took place at the 8th Library Congress in Leipzig in June 2022, where they were met with rave reviews.
Achieve perfect results quickly and reliably.
Selected semi-professional and professional digital cameras can be used for image capture. At the heart of the new overhead scanner is Zeutschel's OmniScan 12 capturing software, which handles both the necessary camera settings and all of the image optimisations, right through to the finished image – all in an automated process. Should the project parameters change, OmniScan 12 automatically recalibrates the scanner (One-Button-Calibration). This gives you control over key quality features of your digital images, such as exposure, colour rendering and shading. You achieve consistently high image results that can be reproduced at any time, enabling you to carry out projects in compliance with ISO standard 19264-1 or common quality guidelines such as Metamorfoze and FADGI.
Maximum flexibility and investment security
Choose between semi-professional and professional camera models from renowned manufacturers according to your needs. The new OS A overhead scanner has a modular design and can be equipped with various copyboard systems. Various book cradles and a backlight table ensure gentle and productive digitisation of a wide variety of originals – from files, books and documents to photos, slides and paintings, to coins and seals.
The modular system design and flexibility in camera selection means you are also ideally prepared for different media. The compact, space-saving design of the OS A means that even the smallest work area can accommodate the scanner. If your digitisation projects require you to work at different locations, the OS A can be easily transported.
Best of all, with the OS A, Zeutschel are setting a new price/performance standard for camera-based overhead scanners. Let us surprise you!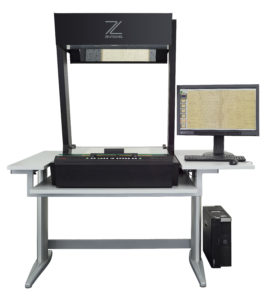 Zeutschel OS C
The Zeutschel Professional scanner series is known for its high image quality, productive operation and ease of use. The new OS C has the same DNA as previous A2 overhead scanners and pushes the boundaries further than ever before.
The OS C is based on a robust dual-column construction as used in the high-end OS Q and OS HQ series. The metal fabrication gives the scanner stability and rigidity.
A completely re-designed scanning head with a new scan drive means that it now runs even more precisely and smoothly. In addition, the LED illumination has been further optimised. It is also now possible to measure the thickness of the book even more precisely, so that you can continuously receive an optimally sharp image of your book pages. All this adds up to impressive image results that can meet Metamorfoze Light and ISO 19264 Level B quality standards at 300 ppi resolution.
Zeutschel's exclusive lighting system is only activated during the scanning process to keep light exposure to a minimum. The scanning process is significantly accelerated as a result of software enhancements and improvements to Zeutschel's already renowned book cradles, book holders and glass plates.
On-the-fly quality check
Both the OS A and OS C operate through the comprehensive capture/workflow software Omniscan. Omniscan used in conjunction with the OS QM Tool enables automated quality control of every single scan. An "Object Level Target" is placed next to the original and automatically analysed. First, you define the quality parameters relevant for your project in the software. After triggering the scan, the image data of the "Object Level Target" is transferred to the quality analysis software. The software analyses the image results and indicates whether the inspection was passed or not. All this happens "on-the-fly", in a fraction of a second.
Both OS A and OS C, are exclusively available through GENUS in the UK & Ireland.