Genus has been selected to digitise an exciting Glass Plate Negative collection, previously unseen for generations. The collection was made by Alfred Ernest Raddy, the great grandfather of Colin Raddy, owner of A.E Raddy & Son of Looe in Cornwall. Alfred ran the mail between Looe and Polperro in the late 19th and early 20th centuries. When in Polperro waiting to bring the mail back he began taking photographs in his spare time. Having got the photo bug, he proceeded to document Looe and the surrounding area as well as Polperro. In 1916 he bought the shop in Fore Street which Colin Raddy still owns today.
As far as the Raddy family know, it is only them that have seen the photos, apart from 3 that have been shared with their Museum Trustees and Committee. The images will be used as an online gallery on their new website with the hope to also sell the images online as photos, postcards and possibly a jigsaw of some of them. The collection offers an exciting insight into life in a Cornish fishing village and the development of early tourism.
The Raddy collection is now available to view at an exhibition in the New Guildhall in Looe, giving a first look at this incredible collection of photographs of Looe's past. The exhibition is open to the Looe Community, Schools and visitors until the 30th October 2021 and has recently been featured in the Cornish Times and BBC Spotlight, Radio Cornwall.
The New Guildhall which houses the museum dates from c.1450 and is believed to have been a single storey building used as a Guild meeting place. After the 1587 Charter, granted to East Looe by Queen Elizabeth 1st, the timber top storey was added and the Guildhall became a magistrates' court, council chamber and gaol. In 1878 the New Guildhall was opened in the centre of Looe, and the original building became a reading room upstairs with caretaker's accommodation on the ground floor.
The Museum's first displays in 1974, were the town's regalia items which are still there today. A number of items were added when Mr Paynter's Old Cornwall museum, located elsewhere in Looe, closed, these included the Looe Stocks, smuggling artefacts, and four original paintings by Samuel Cook. The collection has continued to expand over the years and is now accredited under the Museums Registration Scheme and Collections Policy. It now tells the story of Looe from the days of Smuggling and the Governance of Looe, through wartime to the present tourist industry. As part of the wAVe Coastal Communities grant, the Museum will have an AR model of Looe Island telling the story of Looe Island in medieval times, including the tin trade, as well as a new section in the museum telling the story of Looe Island, its smuggling and a timeline of its owners and the future of Looe with the rising of the tides.
The museum is staffed by a team of 22 dedicated volunteers and a volunteer Manager and Curator, under the guidance of an MDO. The museum is owned and maintained by East Looe Town Trust. Since 2016 their work has included a complete refurbishment of all their displays and the installation of LED lighting, as well as ongoing updating of their collection onto Modes. They have worked hard at establishing links with local educational establishments and the local Looe Community.
The Museum is open 7 days a week 11 – 4, apart from Saturday, which is open 11 -1.30. They often have local history group and school visits, and once a year the Museum participates in the Museum Takeover Day programme with children from Looe Academy Primary.
Genus was selected for this activity due to our extensive experience in the digitisation of culturally significant items. The studios and entire workflow are designed around the correct handling and curation of fragile and historic documents making Genus the perfect partner for the project.
Genus transport consists of plain, non-sign-written vans with air-sprung suspension, GPS trackers and climate monitoring. Due to this collection comprising fragile glass plate negatives, it was more important than usual to ensure careful handling via the use of our transportation.
Upon receipt at Genus, the collection was appraised for condition and damage prior to being placed into our temperature and humidity-controlled store before being ingested into our workflow. All areas within the studio environment including the loading bay and storerooms are covered by our CCTV system. Combined with a card entry system and our certification to ISO 27001, the security of the original content and image output is assured.
Temperature and Humidity Log Charts
The content storage area is adjacent to the photographic studio so we can retrieve content just prior to capture then return it immediately afterwards. When considering glass plates, strict handling guidelines are followed, primarily to ensure the content is curated carefully whilst in our custody. They are extremely fragile and it is very important to us that no damage occurs to these unique items. Film-based content is usually stored at a lower temperature than paper documents and so our store and studios have independently controlled climate systems to enable us to program the required conditions for different types of content.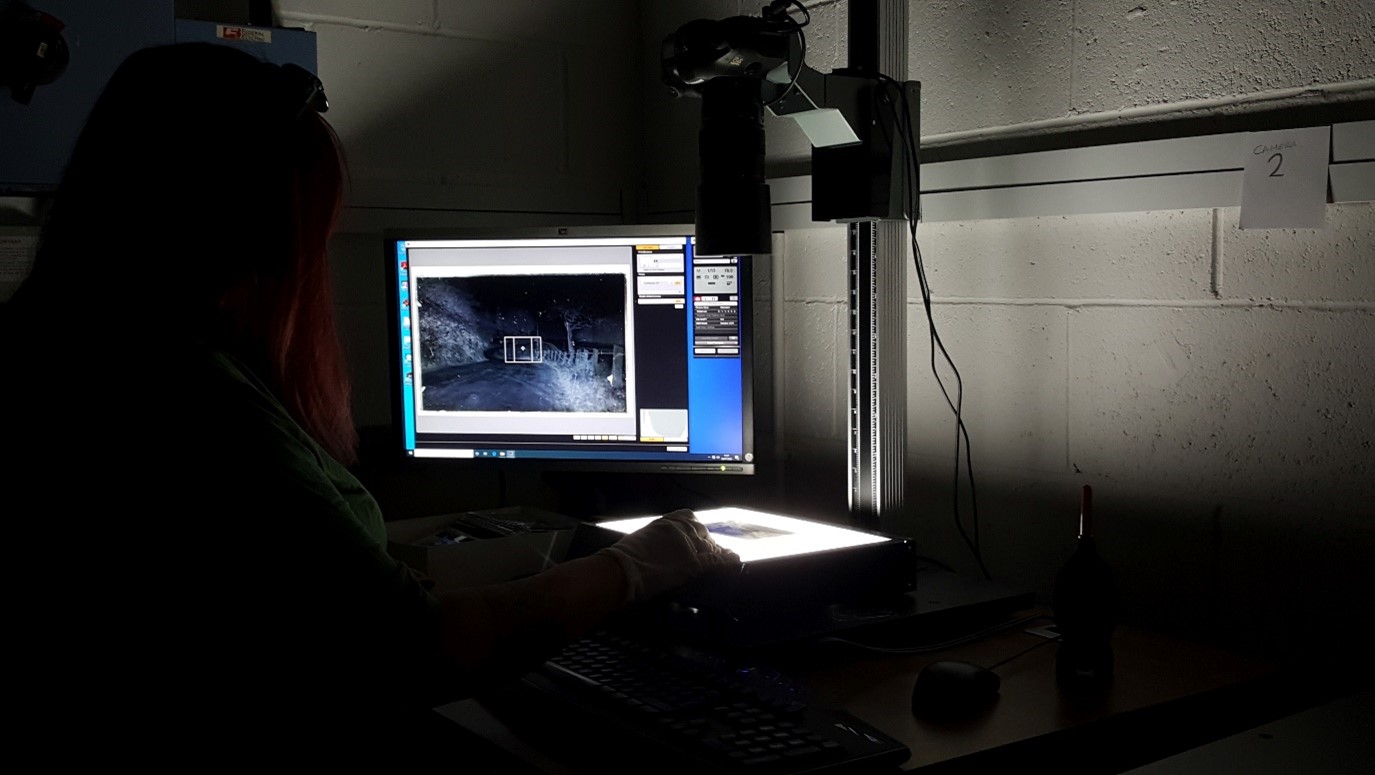 Our normal work procedure for glass plate negatives and lantern slides was followed. A professional level DSLR camera with a prime macro lens is mounted to a camera column suspended above a light box. We only utilise professional lightboxes with uniform transmission, controlled colour temperature and a Colour Rendering Index (CRI) in excess of 90. The cameras are operated in tethered mode using a computer signal to trigger the shutter. In addition to minimising the risk of camera shake, tethered capture allows us to see a large preview image on our colour-calibrated monitors and perform quality checks at the point of capture. Changes to exposure are easily made through the capture application and the histogram for each image is evaluated enabling us to delete any sub-standard images that are not exposed correctly and re-capture instantly. We ensure a low ISO is used in conjunction with an aperture of around f8 to ensure the lens is at its sharpest. The exposure is then controlled by adjusting a combination of illumination and shutter speed. We always "expose to the right" to make sure we capture all of the dynamic range of the film while ensuring the highlights aren't blown out, thereby losing detail within the image.
Images are post-processed using a combination of Adobe Photoshop and Lightroom. Colour corrections are made, and retouching applied, as necessary. Images are processed within a managed tonal range to prevent clipping and an associated loss of detail. All workflows are controlled within a managed colour space on calibrated and profiled monitors.
The East Looe Town Trust required multiple file derivatives to be made from the original Archive Master Tiff consisting of a Jpeg, a watermarked file for online publication and a  further Jpeg surrogate containing a copyright statement which also appears within the IPTC metadata field of every image created.
The digitisation of the glass plates was made possible thanks to funding from South West Museum Development using public funds from Arts Council England and contributing Local Authorities. Genus is very proud to have had the opportunity to digitise this collection which has never-before been made publicly available. To see these images for the first time in high-quality form has been a rare pleasure.
Owned and maintained by East Looe Town Trust, the museum is staffed by a team of enthusiastic volunteers who are now enjoying going back in time as they catalogue and published images. This is a huge task so prints will become available as they are progressively added to the Raddy Collection Print Store.
Here more about this project on Breakfast on BBC Radio Cornwall
From glass plate negatives to the internet – how these fascinating old pictures of Looe are being rediscovered