Following on from our recent blog— "What to look for in a large format scanner", I want to take a closer look at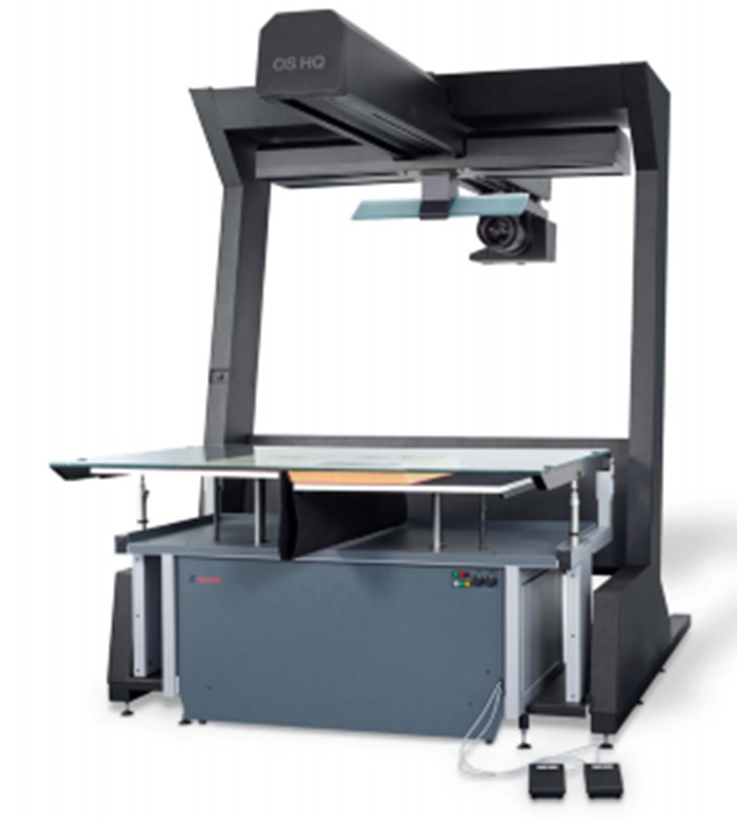 which actual scanners comply and the reasonings behind our observations – as many scanners do not comply.
The Zeutschel OS Q0 is available as a standard unit and now also as an HQ. This is the latest scanner from Zeutschel and it utilises the very latest technologies. The scanner is modular, so it can be configured to suit your requirements – flat top lite table with glass for flat material or a complete range of book cradles, capable of both flat and bound material.
One of the most important features of this scanner is that it complies and even exceeds the recommendations of ISO, Metamorfoze and FADGI, at the very highest levels.
The sensor in the OS Q0 is a single line sensor and, for the first time, RGB CMOS controlled using 100% of the available pixels. In our last blog we discussed how area sensors only use 50% of green pixels and 25% of blue and red pixels, requiring the shortfall to become interpolated colour. Not only is there no colour interpolation with the OS Q0 but also no resolution interpolation. The OS Q0 offers 600ppi (7,1 lp/mm) whilst the HQ can achieve 1000ppi (10+ lp/mm). The Sales brochures from all Manufacturers state resolution, however, what they don't state is if this is optical, interpolated or created by pixel shifting. Always ask and if in doubt ask for an image of a test target chart captured at full capture area. Genus or any reputable distributor will analyse it if you do not have the capabilities to do so. FADGI states ''Ask manufacturers and vendors for actual test results, rather than relying on the specifications provided in product literature, as performance claims in product literature are often overstated''
Being CMOS the OS Q is the first scanner from Zeutschel that gives the operator the opportunity to adjust F stops and exposure times so that a depth of field can easily be adjusted.
The lenses for the OS Q0 and HD are custom made by Schneider Kreuznach, with both units coming with a zoom lens as standard, helping to keep the integrity of the original.
To enable fast calibration, integrated hardware shutters are incorporated for both black level compensation and automatic white reference. ICC profiles for scanning with or without glass are automatically utilised.
As capture areas become large it becomes more difficult to achieve a high level of homogeneity. Adjustable intensity focused spectral lighting with a CRI of >97 gives near perfect homogeneity over the entire capture area. The Spectral light characteristics match the spectral sensitivity of the sensor to offer very low noise values when analysed with software such as the Zeutschel QM Tool. The illumination is only active at capture levels during the capture process. At rest times it emits less than 0.98Lxh. As the light travels from back to front rather than conventional systems that are side lit, no shadows or reflections are created.
Connectivity is via Camera Link for a fast stable environment with Internal image processing at 96(3 x 32) bit depth.
Output is 48 bit colour (24 bit possible) or 16 bit grey scale (8 bit possible). The graphic below demonstrates the difference between 24bit and 48bit colour.

To accommodate the large files that are possible to be created the OS Q0 has an option to create Big Tiff files. Until recently TIFF files were limited in size to 4GB. Big Tiff allows for much large files to be saved.
The combination of all these elements means current Imaging recommendations are surpassed by the OS Q0 and OS Q0 HQ. To verify this and monitor quality, Omniscan capture/workflow software that is supplied with the scanner, allows for the integration of the QM Tool. This can be built into a workflow to constantly monitor quality throughout the capture process.
The OS Q0 is available with a variety of cradles/tables and also as A1 and A2 versions.
Omniscan is a comprehensive capture/workflow solution and can be complimented with Omnipro for carrying out work offline. Not only is it packed with all the features required to complete a successful digitisation project, it also includes features such as metadata creation and ingestion and barcode scanning. The latest developments include Bilateral filters. This works in areas without edges and reduces noise within the image. Additional thresholds within the unsharpen mask and a superior OCR module are recent inclusions.
Another new feature is Intelligent Stitching for Oversized Originals. A0 is large but historical documents do not always conform to modern sizes. Intelligent Stitching automatedly stiches associated parts of an image during finalisation in batch mode. It searches for similarities in the different scans created and applies the stich, it then applies automatic brightness and colour to the image, creating a perfect image.
There are additional features planned for the next release.
The OS Q range can be relied on to deliver quality, so, if you are looking for a large format scanner join the growing army of OS Q users around the world, please contact Genus.